By Jan on Aug 7, 2010 in Business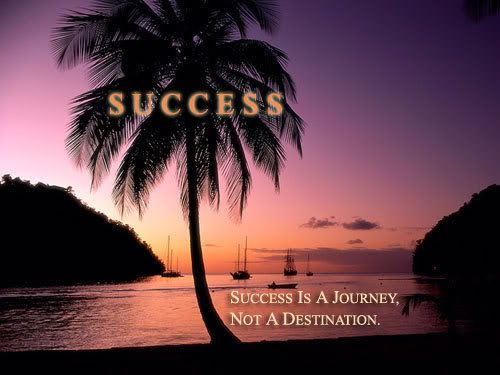 I was asked once, what my definition of success was. I replied, "Most People would say Show me the Money. But Personal Business Success to me is setting goals, achieving those goals and enjoying yourself along the way. Always be true to yourself, conduct yourself in a professional manner, and always treat everybody with respect."
Each and every one of us, who decides to go into business for ourselves, must consider this question. What is your definition of success? If it is for the money, then decide how much money you want to make and how you are going to achieve that goal. Do some brainstorming, and above all else do your research. You don't want to sell blue widgets if there are already 50 billion blue widget sellers online.
When you venture into a Business proposition always make a list of the pros and cons of that project. If the pros outweigh the cons, you go ahead with that business. However, if the cons outnumber the pros walk away, and try something else.
If you do go into this Business venture, remember to periodically evaluate this business and your business strategies. Unfortunately, what works for you today may not work for you tomorrow. You can always change what you are doing if it is not working out for you.
If you happen to be in an Ecommerce Business, please remember that the internet business structure changes quickly. These changes are ongoing at a very rapid pace, and that the internet changes every day.
Always remember that knowledge is power. My Momma always said that whenever you learn something, nobody can take that away from you. Sign up for free webinars whenever they become available. If there is a paid webinar available you should sign up for it if you can afford it. Always save your webinar payment receipt for your business expenses so you can take that expense on your tax return.
I always try to do a little research daily into what is happening at Google, Facebook, Twitter, Pinterest, Google+, etc. Find a few trusted website sources that cover the latest breaking news. If you learn better by watching videos, go to YouTube, for written information go to Google and search Blog sites for the information you need.
I like to follow WebProNew.com, TechCrunch, and John Colder Ice Lawson, just to name a few. If you are selling online find a podcast that covers your particular site's ecommerce news.
Above all else, remember that this is your business and you need to decide what will work for your business. The internet is full of information, and finding the correct information for your business model is the key to your success.